Featured Artist Catherine Jones
"Art is Business"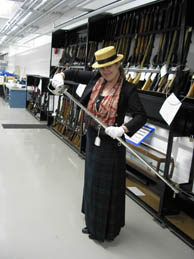 In August I met this fantastic artist from Canada while staying at the Edge Water Beach Apartments in Chicago. Walking into her condo, she had a life size portrait of Queen Elizabeth, she is best known for her
staging the capture of Fort

Halifax Citadel. In 2014 she will be seeking citizenship in the US, and then we can talk more about her international love affair with staging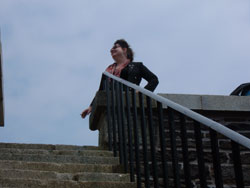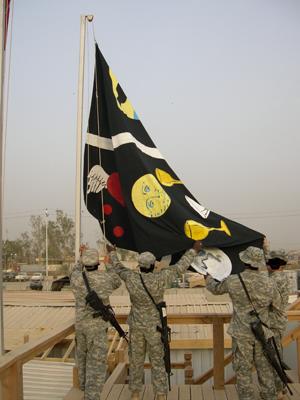 In 2004, the entire series was unveiled in the Senate of Canada.
Fort Catherine
est. 23rd day of June, anno Domini, 2006.
Prior to 2006, the Halifax Citadel, est. 1749, boasted of having never been invaded. This flagrant challenge, coupled with the prohibitive costs of 21st century fort construction, led to an inevitable conclusion:
"Why bother to build your own fort when you can follow tradition and take someone else's."
Directly following the report of the noon-gun the Union Jack was lowered, and for the first time in 257 years another flag, the flag of New Catatonia, was flown in its stead. Desperate to avoid another Iraq or Viet Nam the occupation was prudently short lived. Validation was secured when all of the pages from the guest book were removed. Regardless, the Citadel can no longer legitimately claim to have never been invaded, let alone occupied.
"

Where the sun is always over the yardarm."
A series of twenty-one life size oil on linen portraits of World War Two veterans. The Canadian, German and British men are depicted without identification or military insignia allowing the humanity in their venerable faces to transcend the geopolitics of war. Remarkably, although once mortal enemies, these men have sat down to raise a glass of cheer together.
The series was initially exhibited in Ortona, Italy the scene of the vicious battle fought over Christmas 1943 which was also the site of the legendary Dinner of Reconciliation in 1998.
In 2004, the entire series was unveiled in the Senate of Canada.