2014 BRONZEVILLE ART DISTRICT 3RD FRIDAY TROLLEYTOUR- Drive- IN Popup Movie Theatre
"Art is Business" curator Janelle Dowell
The Drive- IN Popup Movie Theater
September 19th, - October 2014 Time: Dusk to Dawn
"The Drive IN Popup Movie
Theater
", using the theme of the drive in Movie Theater, as a temporary installation staging a multimedia presentation. The exhibition includes sound installation, sculpture, and various forms of two-dimensional imagery.
Janelle Vaughn Dowell is a community engagement specialist and interdisciplinary artist from Chicago, Illinois. Understanding that art has an integral position in the community, Dowell has adopted one of America's most historic resort communities and is producing a body of work that will reinvigorate and redefine this significant American village. Dowell's research and body of work will echo W. E. B. Du Bois's activism and understanding of the need for a multifaceted representation of African American life.
This multilayered body of work will utilize the following media for documentation and exhibition purposes: photographic and video interventions, sound recordings and projection.
Dowell is a second year Interdisciplinary Arts & Media MFA student. Prior to attending graduate school, she completed the digital publishing program at Stanford University and received a BA from the University of Arkansas at Pine Bluff. In 2012, she was awarded funding through the Chicago Filmmakers and the Chicago Instructional Technology Foundation to produce a civil rights docu-curriculum
The aim of the Phantom Gallery Chicago is to examine changes in current curatorial production and to develop innovative displays in relation to these physical storefronts or virtual spaces. The place where art is imagined and made; whether in a physical or virtual space, affects the idea, the process and the final product. Moreover, the art, once created, leaves a mark on the place it occupies.
JOIN US FOR
THE LAST TROLLEY OF THE SEASON
2014 BRONZEVILLE ART DISTRICT
3RD FRIDAY TROLLEY TOUR
SEPTEMBER 19, 2014
6:00 PM TO 10:00 PM!
DON'T MISS AMAZING ART, NETWORKING AND REFRESHMENTS!
GREAT IDEA FOR SOCIAL CLUBS AND CHURCH OUTINGS!
FREE TO THE PUBLIC! DONATIONS WELCOME!
TROLLEY BEGINS AT THE BRONZEVILLE ARTIST LOFTS
436 E 47TH STREET or
BOARD THE TROLLEY AT ANY LOCATION ON THE ROUTE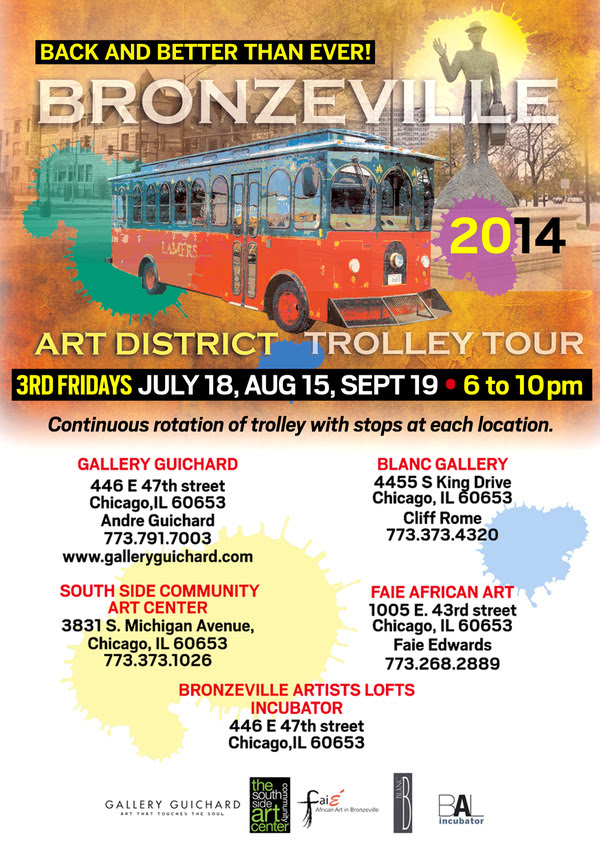 _______________________________________________
WWW.GALLERYGUICHARD.COM